Posts for tag: tmj disorders
By Richard Taylor, DMD
July 01, 2020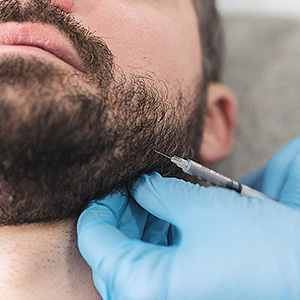 Chronic jaw pain can be an unnerving experience that drains the joy out of life. And because of the difficulty in controlling it patients desperate for relief may tread into less-tested treatment waters.
Temporomandibular disorders (TMDs) are a group of conditions affecting the joints connecting the lower jaw to the skull and their associated muscles and tendons. The exact causes are difficult to pinpoint, but stress, hormones or teeth grinding habits all seem to be critical factors for TMD.
The most common way to treat TMD is with therapies used for other joint-related problems, like exercise, thermal (hot and cold) applications, physical therapy or medication. Patients can also make diet changes to ease jaw function or, if appropriate, wear a night guard to reduce teeth grinding.
These conservative, non-invasive therapies seem to provide the widest relief for the most people. But this approach may have limited success with some patients, causing them to consider a more radical treatment path like jaw surgery. Unfortunately, surgical results haven't been as impressive as the traditional approach.
In recent years, another treatment candidate has emerged outside of traditional physical therapy, but also not as invasive as surgery: Botox injections. Botox is a drug containing botulinum toxin type A, which can cause muscle paralysis. Mostly used in tiny doses to cosmetically soften wrinkles, Botox injections have been proposed to paralyze certain jaw muscles to ease TMD symptoms.
Although this sounds like a plausible approach, Botox injections have some issues that should give prospective patients pause. First, Botox can only relieve symptoms temporarily, requiring repeated injections with increasingly stronger doses. Injection sites can become painful, bruised or swollen, and patients can suffer headaches. At worst, muscles that are repeatedly paralyzed may atrophy, causing among other things facial deformity.
The most troubling issue, though, is a lack of strong evidence (outside of a few anecdotal accounts) that Botox injections can effectively relieve TMD symptoms. As such, the federal Food and Drug Administration (FDA) has yet to approve its use for TMD treatment.
The treatment route most promising for managing TMD remains traditional physical and drug therapies, coupled with diet and lifestyle changes. It can be a long process of trial and error, but your chances for true jaw pain relief are most likely down this well-attested road.
If you would like more information on treating jaw disorders, please contact us or schedule an appointment for a consultation. You can also learn more about this topic by reading the Dear Doctor magazine article "Botox Treatment for TMJ Pain."
By Richard Taylor, DMD
May 18, 2019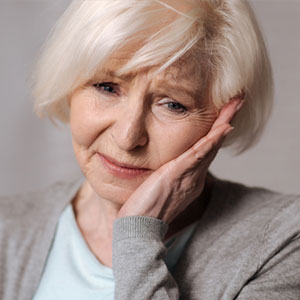 Every May, the National Fibromyalgia & Chronic Pain Association asks people around the world to spread awareness of fibromyalgia and other chronic pain conditions. Anyone with fibromyalgia and its associated joint and muscle pain knows all too well how chronic pain can disrupt everyday life. And as we see frequently in the dental office, people contending with the jaw pain and dysfunction associated with a temporomandibular joint disorder (TMD) can equally relate.
But here's the kicker—if you've been diagnosed with either TMD or fibromyalgia, there's a good chance you're also dealing with both conditions. For example, in one recent survey of over a thousand TMD patients, two-thirds reported also having fibromyalgia or similar kinds of health issues. Researchers are looking intently at possible connections between TMD and fibromyalgia since understanding any potential link between the two might open the door to new ways of treatment.
Fibromyalgia patients experience frequent muscle spasms and fatigue throughout their bodies, coupled with other problems like sleeplessness and memory difficulties. Most researchers today believe it's caused by a malfunction within the central nervous system (CNS) to process pain. Those working with TMD research are also considering whether the same type of malfunction contributes to jaw joint pain and dysfunction.
TMD is an umbrella term for various disorders involving the jaw joints and associated muscles. When you come to the dental office, it is important that we know about any TMD pain you may be experiencing because this can affect your dental visits. For example, people with TMD may have trouble holding their mouth open for an extended period of time, so we can adjust dental exams and treatments accordingly. Also, we will want to look for underlying dental conditions that may have contributed to your TMD.
If you're experiencing both TMD and fibromyalgia symptoms, be sure you let us as well as your rheumatologist know the various symptoms you're experiencing with each condition, the treatments you're undergoing and the medications you're taking.
For TMD in particular, here are a few things you can do to reduce its impact on your daily life:
Avoid foods that require heavy chewing or jaw widening;
Use thermal therapies like warm compresses or ice packs to ease jaw stiffness and pain;
Practice relaxation techniques to reduce stress in your life;
Ask about muscle relaxants or other medications that might help.
You may find that some of these practices, particularly stress reduction, are also helpful in managing fibromyalgia. And if there is a deeper connection between TMD and fibromyalgia, unraveling the mystery could hopefully lead to even greater relief for both.
If you would like more information about managing your symptoms, please contact us or schedule an appointment for a consultation. To learn more, read the Dear Doctor magazine articles "Chronic Jaw Pain and Associated Conditions" and "Fibromyalgia and Temporomandibular Disorders."
By Richard Taylor, DMD
September 20, 2015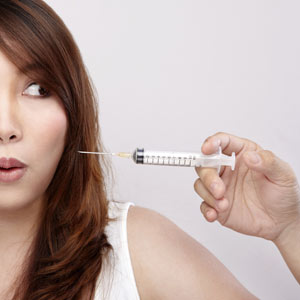 If you've suffered from problems with your jaw joints, known collectively as temporomandibular disorders (TMDs), then you know how uncomfortable and painful they can be. You may also have heard about the use of Botox injections to ease TMD discomfort.
Before you seek out Botox treatment for TMD, though, you should consider the current research on the matter. Far from a "miracle" treatment, the dental profession is still undecided on the effects of Botox to relieve TMD pain symptoms — and there are other risks to weigh as well.
Botox is an injectable drug with a poisonous substance called botulinum toxin type A derived from clostridium botulinum, a bacterium that causes muscle paralysis. The Food and Drug Administration (FDA) has approved small dose use for some medical and cosmetic procedures, like wrinkle augmentation. The idea behind its use for TMD is to relax the muscles connected to the joint by paralyzing them and thus relieve pain.
The FDA hasn't yet approved Botox for TMD treatment, although there's been some use for this purpose. There remain concerns about its effectiveness and possible complications. In the first place, Botox only relieves symptoms — it doesn't address the underlying cause of the discomfort. Even in this regard, a number of research studies seem to indicate Botox has no appreciable effect on pain relief.
As to side effects or other complications, Botox injections have been known to cause pain in some cases rather than relieve it, as with some patients developing chronic headaches after treatment. A few may build up resistance to the toxin, so that increasingly higher dosages are needed to achieve the same effect from lower dosages. And, yes, Botox is a temporary measure that must be repeated to continue its effect, which could lead to permanent paralyzing effects on the facial muscles and cause muscle atrophy (wasting away) and even deformity.
It may be more prudent to stick with conventional approaches that have well-documented benefits: a diet of easier to chew foods; cold and heat applications; physical therapy and exercises; pain-relief medications and muscle relaxers; and appliances to help control grinding habits. Although these can take time to produce significant relief, the relief may be longer lasting without undesirable side effects.
If you would like more information on treatments for TMD including Botox injections, please contact us or schedule an appointment for a consultation.