Posts for tag: gum recession
By Richard Taylor, DMD
November 28, 2021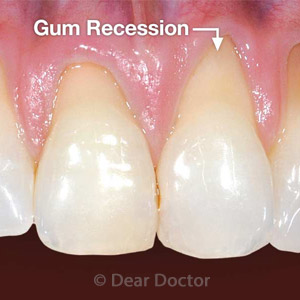 We're all familiar with optical illusions, which our brain visually perceives in a way different from the actual reality. A kind of optical illusion may also happen in your mouth: Your teeth appear to have gotten "longer." They haven't actually grown—instead, the gums have shrunk back (or receded) to reveal more of the tooth.
Unfortunately, this isn't an amusing visual trick! Gum recession isn't healthy, and it could endanger your teeth.
Receding gums occur for a variety of reasons. Some people are simply more genetically disposed to recession because they've inherited thinner gum tissues from their parents. You can also damage your gums through over-aggressive brushing.
But the most common cause for gum recession is periodontal (gum) disease, caused by bacteria inhabiting a thin biofilm on tooth surfaces called dental plaque. The more plaque present on your teeth, the more plentiful the bacteria, which can sharply increase your risk of infection. Unless treated, gum disease can eventually weaken the gums' attachment to teeth that can then cause the gums to recede.
Normally, the gums cover and protect the tooth roots from bacteria and other hazards, similar to the way enamel protects the tooth's visible crown. But teeth lose this protection when the gums recede, exposing them to disease-causing bacteria and other oral hazards.
Fortunately, there is hope for receded gums. The primary way is to first treat the gum disease that caused it: If the recession has been mild, this may help the tissues regain their former coverage. More severe recession, however, may require highly technical grafting surgery with donor tissue to promote new tissue growth at the site.
But the best approach is to avoid recession in the first place by preventing gum disease. This requires removing bacterial plaque daily through brushing and flossing, as well as regular dental visits for more thorough cleanings. Dental visits are also important if you have a higher risk profile for gum recession like thinner gum tissues.
Gum recession isn't just an inconvenience. It can put your oral health at long-term risk. But you may be able to avoid its occurrence by practicing daily oral hygiene and seeing your dentist regularly.
If you would like more information on gum recession, please contact us or schedule an appointment for a consultation. You can also learn more about this topic by reading the Dear Doctor magazine article "Gum Recession."
By Richard Taylor, DMD
May 12, 2018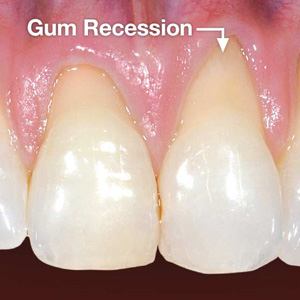 Your gums aren't just for show—they also play an important role in supporting and protecting your teeth. Healthy gums are essential for healthy teeth.
Your gums can take a lot from daily chewing or other environmental factors. Unfortunately, disease or trauma can weaken their resilience. This weakening could lead to gum recession.
Gum recession occurs when the tissues covering a tooth begin to lose their attachment and shrink back (recede). As a result, the tooth appears "longer" as more of it that's normally below the gum line becomes visible. Not only is gum recession unattractive, it also exposes more of the tooth to disease-causing bacteria.
The most common cause for gum recession is periodontal (gum) disease, an infection arising from the accumulation of a thin bacterial biofilm on the teeth called plaque. Infected gums become inflamed, a normal defensive response to isolate diseased or damaged tissues from the rest of the body. Chronic inflammation, however, weakens affected tissues over time and results in bone loss.
Other factors can also contribute to gum recession. A tooth that didn't erupt properly and has come in away from the center of its protective bony housing can impede adequate gum coverage. Your gum tissue thickness, which you genetically inherit, can also increase the risk of gum recession. People with thinner gum tissues are more susceptible to recession than with thicker tissues.
You can also damage your gums (ironically) while trying to care for them. Over-aggressive brushing over time may traumatize the gums to the point that they recede. While it's essential in removing disease-causing dental plaque, brushing only requires a gentle scrubbing action covering all portions of tooth surfaces. The brush bristles and mild abrasives in the toothpaste do most of the work of plaque removal.
To minimize the chances of gum recession, you should practice proper oral hygiene and visit your dentist regularly for professional cleanings and checkups. And you might also consider orthodontics for improperly positioned teeth that could not only improve your smile, but also your gum health.
And by all means see your dentist if you notice any signs of gum infection like swollen, reddened or bleeding gums. The sooner you begin gum disease treatment, the less likely your gums will recede in the future.
If you would like more information on recognizing and treating gum recession, please contact us or schedule an appointment for a consultation. You can also learn more about this topic by reading the Dear Doctor magazine article "Gum Recession: Getting Long in the Tooth."