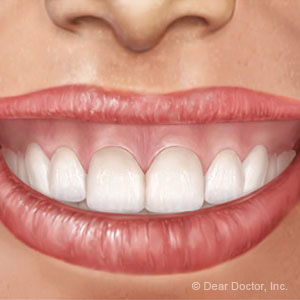 What makes a beautiful smile? Beautiful teeth, for sure. But there's also another component that can make or break your smile, regardless of your teeth's condition: your gums. Although their primary function is to protect and stabilize the teeth, your gums also enhance them aesthetically by providing an attractive frame.
But just as a painting displayed in an oversized frame can lose some of its appeal, so can your smile if the size of your gums appears out of proportion with your teeth. Normally, a smile that displays more than four millimeters of gum tissue is considered "gummy."
There are some things we can do to improve your gum to teeth ratios. What we do will depend on which of the following is the actual cause for your gummy smile.
Excess gum tissue. We'll start with the obvious: you have excess gum tissue that obscures some of the visible tooth crown. We can often correct this with a surgical procedure called "crown lengthening," which removes some of the excess tissue and then reshapes the gums and bone to expose more teeth length.
Teeth that appear too short. The problem may not be your gums — it could be your teeth appear too short. This can happen if the teeth didn't erupt fully, or if they've worn down due to aging or a grinding habit. One option here is to "lengthen" the tooth cosmetically with veneers, crowns or other bonding techniques.
Higher lip movement. Rather than your teeth and gums being out of size proportion, your upper lip may be rising too high when you smile, a condition known as hypermobility. One temporary fix is through Botox injections that paralyze the lip muscles and prevent their movement from overextending. We could also use periodontal surgery to perform a lip stabilization procedure that permanently corrects the upper lip movement.
Overextended jaw. Your gums may seem more prominent if your upper jaw extends too far down and forward. In this case, orthognathic (jaw straightening) surgery might be used to reposition the jaw relative to its connection with the skull. Setting the jaw up and back in this way would reduce the prominence of the gums when you smile.
As you can see, treatments range from cosmetic techniques to moderate surgical procedures. A full dental exam will help determine which if any of these measures could reduce gumminess and improve your smile.
If you would like more information on correcting gummy smiles, please contact us or schedule an appointment for a consultation. You can also learn more about this topic by reading the Dear Doctor magazine article "Gummy Smiles."