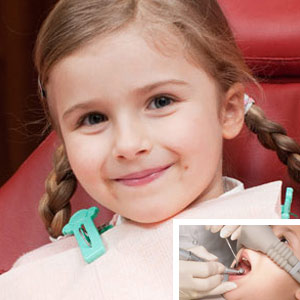 While pediatric dentistry has made great strides in making young patients' dental visit experiences more relaxing, some children and teenagers still have difficulty with anxiety. Their anxiety in turn can make necessary care much harder to provide.
For difficult cases, many dental providers for children now incorporate a technique known as conscious sedation to help ease anxiety. With this technique, they're able to perform procedures like cavity-filling or tooth-extraction that are more difficult with an anxiety-prone patient.
While general anesthesia creates a total loss of consciousness, conscious sedation uses precise medications to suppress consciousness at different levels ranging from light to deep suppression, and create a relaxed state for the patient. A child under sedation can still breathe normally and respond to certain stimuli, including touch and verbal commands. For only a light or minimal effect, a dentist normally administers the sedation drug as a pill the child takes orally. For deeper sedation, the medication is most likely delivered through a vein (intravenously).
Sedation reduces fear and anxiety but not necessarily pain, so it's often accompanied by some type of anesthesia, either a local anesthetic delivered by injection to the procedure site or with a nitrous oxide/oxygen gas combination that's inhaled through a mask worn by the patient.
Even though the child isn't completely unconscious, one of the dentist's staff will monitor vital signs (heart and respiration rates, blood pressure and blood oxygen level) throughout the procedure. This continues even after the treatment is over until the child's vital signs return to pre-sedation levels. Once released, they will need a ride home and should rest for the remainder of the day. They can then return to school and resume other normal activities the next day.
With the advent of newer and safer drugs, conscious sedation is becoming a more widespread technique in both medicine and dentistry. Using it to ease a child's anxiety increases the chances they'll receive all the dental care they need without unpleasant memories of their visit that could follow them into later life.
If you would like more information on the role of conscious sedation for children, please contact us or schedule an appointment for a consultation. You can also learn more about this topic by reading the Dear Doctor magazine article "Sedation Dentistry for Kids."