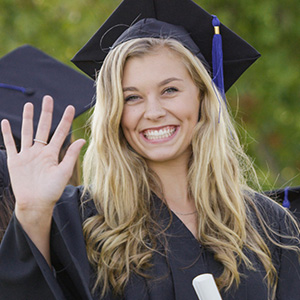 High school graduation marks the end of childhood and the beginning of young adulthood. Do you have a graduate in your family? If so, this is the ideal time to schedule a dental checkup and cleaning. Many graduates will be moving away to attend college, and an oral exam and cleaning now can help ensure that they will embark on this next phase of life in good oral health.
Is your graduate ready for the barrage of camera snaps? Long after graduation day, pictures of your graduate beaming in cap and gown will be on display. A professional teeth cleaning may be just what is needed for a camera-ready smile. The dental hygienist will use an electronic polishing tool to remove many stains from the teeth for a sparkling smile.
What's more, the dental hygienist uses special tools to get rid of plaque and tartar that can cause bad breath, a common concern among teens and young adults. Bad breath is primarily caused by poor oral hygiene habits, and the hygienist can check to see if your teen's oral hygiene routine has been too lax—and offer pointers if needed. It's never too late to form better brushing and flossing habits, especially if your graduate will soon be living away from home!
A dental exam will reveal tooth decay or gum disease, problems that will only get worse if not taken care of. Another reason why dental exams are important at this time is that wisdom teeth—or third molars—generally appear between ages 17–21. Although these teeth sometimes come in without any problem, many wisdom teeth become impacted and must be removed, so it's important to monitor them during regular dental checkups.
Take time to schedule a dental exam and cleaning so your graduate can march into a bright future armed with a big smile and the best oral health.
If you have questions about teen oral health concerns, please contact our office or schedule a consultation. You can learn more in the Dear Doctor magazine articles "Wisdom Teeth" and "How to Help Your Child Develop the Best Habits for Oral Health."